John Hancock remembered
John Hancock, one of the original signers of the Declaration of Independence, is known primarily for his fancy signature on the document. National Handwriting Day is celebrated each year on January 23, Hancock's birthday. The day was founded in 1977 by the Writing Instrument Manufacturers Association (WIMA) to celebrate the pleasure and satisfaction of composing a handwritten note using a high-quality writing implement.
National Handwriting Day, January 23
WIMA's own description of the holiday resonates eloquently with my own love of writing handwritten letters and notes:
The lost art of handwriting is one of the few ways we can uniquely express ourselves. There's something poetic about grasping a writing instrument and feeling it hit the paper as your thoughts flow through your fingers and pour into words. So, the Writing Instrument Manufacturers Association (WIMA) suggests you take advantage of National Handwriting Day on January 23 and use a pen or a pencil to rekindle that creative feeling through a handwritten note, poem, letter or journal entry.
Handwriting allows us to be artists and individuals during a time when we often use computers, faxes and e-mail to communicate. Fonts are the same no matter what computer you use or how you use it. Fonts lack a personal touch. Handwriting can add intimacy to a letter and reveal details about the writer's personality. Throughout history, handwritten documents have sparked love affairs, started wars, established peace, freed slaves, created movements and declared independence.
…National Handwriting Day is a chance for all of us to re-explore the purity and power of handwriting.
Interested in the history of penmanship?
If you're of a mind to dig a bit deeper, you might enjoy this article on the History Channel website about the history of penmanship. Parchment remnants found in ancient Roman ruins suggest that they were among the first to develop a script for correspondence. By the time of the eruption of Vesuvius in 79 A.D., correspondence started becoming more intimate and personal instead of formal or transactional.
Alas, many schools just this year have removed cursive writing from their curriculum. It makes me sad that children may soon be unable to read the notes their elders write to them.
Have fun with personalized stationery!
It's infinitely more fun to write a note or letter when you're writing on lovely paper that you've selected yourself and customized with your name and perhaps your address. I've been a representative for years for the Carlson Craft line of printed products, and I can vouch for the quality and selection. Have fun browsing the CarlsonCraft stationery store today and call me at area code 540 and phone 436-3969 to place an order at a Heartspoken discounted price: https://stationerygift.carlsoncraft.com/.
This stunning card with a navy border (available in other colors too) is one of my favorites.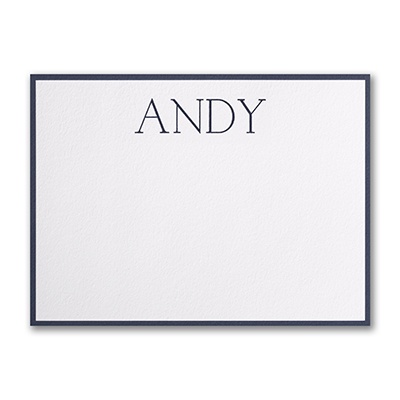 Order yourself some stationery that fits your personality (or get two or three different styles to fit whatever mood you're in at the time) and keep it close at hand with your favorite pen, stamps, and address book. Before you know it, you'll find it's easy and fun to write personal notes—notes that will comfort, encourage, and inspire!
Pin this: